OTHER SUBSTRUCTURE ATTACHMENTS
The sill-to-foundation attachment is not the only critical connection. It is important to remember that reinforcing one connection transfers stresses to the next weakest connection. Attaching the sill plate to the foundation, or the posts, beams and piers to one another is not enough to ensure seismic resistance.
FRAMING ANCHOR CONNECTIONS
Framing anchors transmit stresses between framing members once the sill plate is attached to the foundation. They also tie framing members together Figure H shows some of the ways framing anchors can be installed to strengthen connections between floor joist and sill plate, and floor joist and band joist.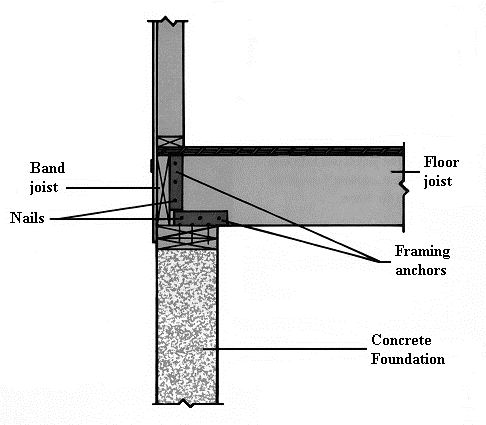 FIGURE H - Framing Anchor Connections
FLOOR FRAMING
Blocking between floor joists will help prevent the joists from tipping over and collapsing during an earthquake. Floor joists should be blocked at all supports and fastened to the band joist and sill plate.