RETROFIT CASE STUDY
Santa Cruz Victorians Become Seismic Design Laboratory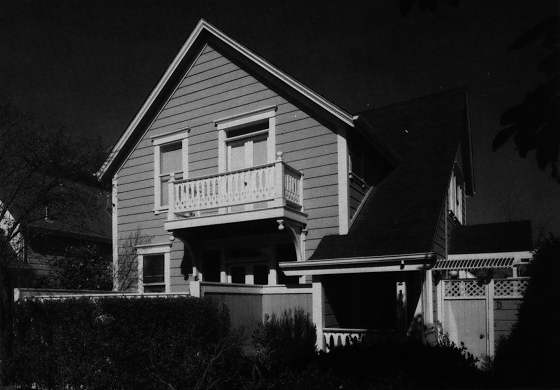 ---
In 1989, at the corner of Center and Elm streets in downtown Santa Cruz, California, architect Michael O'Hearn unwittingly created a laboratory for the study of structural wood panels in seismic design applications.
On that corner, at 214 and 210 Elm Street, were two identical Victorian style homes. According to O'Hearn, the twins were built 90 to 100 years ago, by the same builder, with identical materials and using the same construction techniques.
By 1984, when O'Hearn bought them, both houses had been through multiple remodels. Although originally designed as single-family homes, 210 Elm Street had become a five-plex and 214 a four-plex. O'Hearn remodeled the pair yet again.
He started with #210, installing APA Rated structural wood panels as a shear element on cripple wall framing. The sill plate also was bolted to the foundation. O'Hearn was well aware of the shear resistance provided by structural wood panels and knew of their value in seismic design applications. "The plywood served as our shear element throughout"," he said.
Unfortunately, there was no time to install structural wood panels at #214 before October 17, 1989 - the date of the 7.1 magnitude Loma Prieta earthquake. "The building (at 214 Elm) came apart in four sections," O'Hearn said. "Five people were in the house when the quake struck, bu luckily, no one was seriously injured."
By contrast, 210 Elm St., with its structural wood panel shear walls, suffered only minor damage.
"The one that we had done some seismic structural work on (#210) probably cost us $5,000 to repair. The other one (#214) cost us $260,000 to repair," he said. "The whole building had to be jacked up and slid back together on a new foundation."
In a sense, 214 Elm Street served as the control element in this unlikely experiment, the results of which only confirmed O'Hearn's thinking on the value of structural wood panels in seismic design applications.
"For homes more than 20 years old located in areas of seismic activity, I strongly urge owners to carefully consider seismic retrofit,: O'Hearn said. "It's cheaper to retrofit now than to repair after a quake."